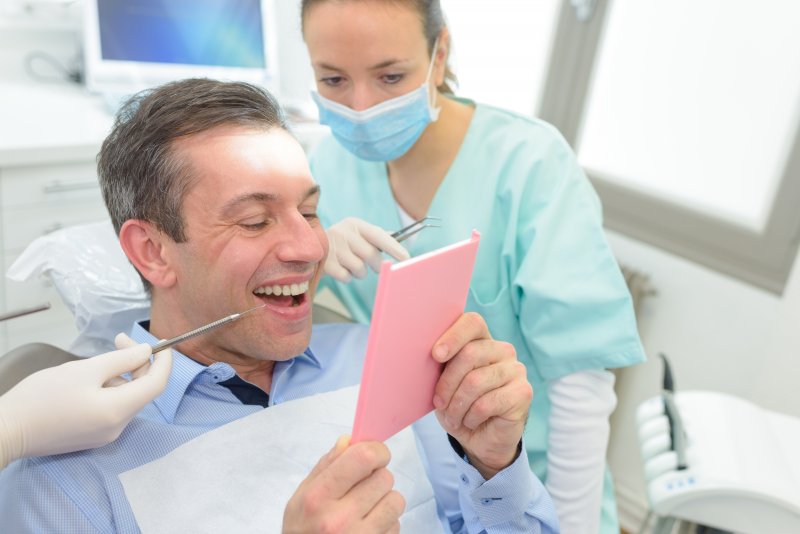 Do you have missing teeth? If so, then you know firsthand how having gaps in your smile can affect your quality of life. Not only does it impact your bite, but your speech and appearance as well. To solve your problems, you're probably researching options for replacing teeth. Partial dentures and dental bridges are two excellent ways to restore your smile – but how do you know which option is best for your needs? You can find out by learning about the difference between partial dentures and dental bridges.
What Are Partial Dentures?
A partial denture is a removable appliance that has one or more false teeth on it. Usually, it's made up of a plastic base or a metal framework that supports the number of teeth a patient needs replaced. The metal framework is designed to clip onto the remaining teeth that surround the gap. Although you have the option to choose between the plastic plate and combination denture, the latter is ideal because it reduces the risk of damage to your surrounding teeth. However, you should still ask your dentist what they recommend. They're the most qualified person who can suggest the best course of action for your needs.
What Are Dental Bridges?
A dental bridge is a restoration that's permanently attached to your mouth. It's called a bridge because it quite literally bridges the gap between your existing teeth. In most cases, it's secured by being bonded or cemented to neighboring teeth. A typical bridge is made of three different components: an artificial tooth flanked by two dental crowns, which fully encase neighboring teeth. But what happens if you have multiple teeth missing? Well, in these instances, bridges can be attached to dental implants. Most restorations are crafted from lifelike dental porcelain, meaning you can enjoy durable and natural-looking results!
How to Choose the Right One for Your Smile
Although it's hard to say which option is right for you, here are some things to keep in mind when making your decision.
Partial Dentures – If you have one or more consecutive teeth missing, your dentist might recommend this option. Also, if there's a chance you'll lose more teeth, it makes more sense to opt for the removable restoration. Compared to bridges, partial dentures are less expensive and can easily last about five years.
Dental Bridges – Are you only missing one or two teeth? A bridge may be a better solution for you. They're not as affordable as partial dentures, but the restoration can last up to fifteen years or more with proper dental care.
Are you ready to replace your missing teeth? Contact your dentist and ask what they recommend. With their knowledge and expertise, they'll be able to advise you on the best course of action for your smile!
About the Author
Dr. James Candon is passionate about helping patients achieve and maintain their absolute best smiles. He completed his dental education at the prestigious University of Maryland School of Dentistry. If you have missing teeth, Dr. Candon can replace them with either partial dentures or dental bridges. He and his team will determine the best option for your oral health needs and goals. To schedule an appointment with Dr. Candon, visit our website or call (803) 650-3925.