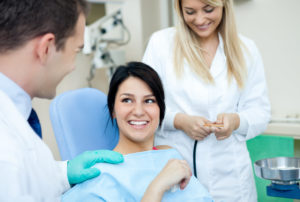 Is your tooth causing you a lot of pain? Between work, errands, and shuttling the kids to soccer practice, it can be hard to find the time to visit the dentist, even if you have a toothache. However, you may need a root canal in order to save your damaged or infected tooth. How long can you expect to be in the treatment chair during root canal therapy? Let's take a look at what factors impact root canal treatment and the recovery process.
What Is a Root Canal?
Root canal therapy is a treatment that is performed to relieve severe dental pain. Root canals target the soft tissue inside of teeth known as pulp. Deep decay, repeated dental procedures, and injuries can all cause pulp inflammation or infection.
During a root canal, a dentist makes a small hole in the top of the infected tooth. This allows them to clear away the damaged or infected pulp inside and shape the inner root canal. Once the inside of the tooth is cleaned and dried, the dentist fills the space with a biocompatible material and seals the hole. A permanent crown is typically placed on top of the affected tooth several weeks later.
Factors that Impact Treatment Time
In general, root canal therapy can take anywhere between 30 to 90 minutes. While many root canals can be completed in a single session, some more complex cases require two separate visits. However, every case is different. Some factors that could influence how long your root canal might take include:
The size and severity of the infection
The number of tooth roots (front teeth only have one root, while molars can have up to four)
Whether the tooth needs a filling or a dental crown after the treatment
Your ability to sit with your mouth open for extended periods of time
How Long Does Recovery Take?
Most patients recover from root canal therapy in just a few days. You may experience some mild pain for the first 24 to 48 hours after treatment. However, you should be able to manage any discomfort by taking over-the-counter pain medication. If you experience any swelling around the affected tooth, use a cold compress.
In addition, you should avoid chewing with the root canaled tooth until a permanent filling or crown is in place. Try to avoid hard foods and eat softer foods like soups, mashed potatoes, or yogurt instead.
To help ensure your tooth heals and your smile remains healthy, continue to brush twice a day, floss daily, and limit the amount of sugary foods and drinks you consume.
In the end, whether it takes just 30 minutes or a bit longer, a root canal can help relieve your pain and save your tooth. If you are concerned about time, don't wait a minute longer to ask your dentist if you could benefit from root canal therapy!
About the Author
Dr. James Candon is the dentist Indian Land residents trust to provide relief when they are experiencing severe dental pain. He routinely performs root canal therapy at BridgeMill Dental Care to save damaged and infected teeth. To learn more about root canals, visit the BridgeMill Dental Care website or by calling 803-650-3925.