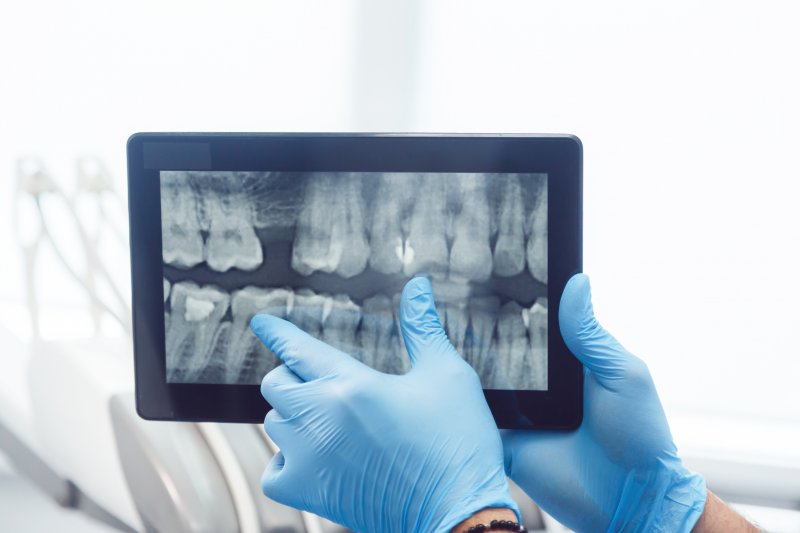 If you have been going to the dental office for regular checkups, you probably already expect that you need an x-ray from time to time. However, have you ever thought about why it is necessary to get them done so often? If you aren't in any pain, why should your dentist need to use a dental x-ray to take a look at your mouth? Continue reading to learn more about dental x-rays, how they work, and how often you should have them done.
How Does a Dental X-Ray Work?
A dental x-ray works by taking a photo of the inside of your teeth and gums. In order to capture these images, low levels of radiation are used. This works because tissues do not easily absorb the radiation, but both bones and teeth do, so they show up when the picture is taken. Compared to old school film x-rays, digital x-rays, which are usually the ones being used by dentists today, produce 90% less radiation levels, clearer images, and they process much faster. They also organize the captured images in easily transferrable files.
What Issues Can Dental X-Rays Find?
By allowing dentists to see much more than what they can see with the naked eye, dental x-rays can point them to all sorts of different oral health issues. Even if your teeth look great above the gumline, there could still be potential problems beneath it. X-rays can help dentists to diagnose tooth decay, bone loss, impacted teeth, and many more health issues.
X-rays are incredibly helpful because many issues can go unnoticed for a long period of time and cause further problems in the long run. By staying on top of your dental x-rays, you are taking another step to prevent oral health issues.
How Often Do You Need an X-Ray?
The number of x-rays that you require on aa regular basis depends on a few different factors. For kids, x-rays are typically needed more often but the teeth are continuing to erupt. Patients who have not seen a dentist for a while may also need to have x-rays done more frequently. Another reason you may need an x-ray is if you are experiencing a dental emergency, like a toothache or other issues. Ultimately, your dentist needs up to date information in order to treat you properly. For most patients, an x-ray is required once a year.
When looking at your smile, your dentist is only able to determine certain things. By using dental x-rays, they can diagnose and treat oral health issues with much better accuracy.
About the Author
After completing his undergraduate degree from the University of Vermont and graduating with honors, Dr. James Candon attended the University of Maryland School of Dentistry to earn his doctorate. While in school, he was president of the Academy of General Dentistry and was a member of the admissions committee. For more information on dental x-rays or to schedule an appointment at his office in Indian Land, visit his website or call (803) 650-3925.