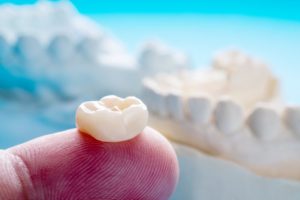 Are you putting off getting a dental crown? Maybe you're anxious about having one placed, or maybe you're concerned about how much it will cost. However, putting off this important restoration can cost you significantly more time, money, and hassle in the long run! Read on to find out why dental crowns are a worthwhile and affordable investment in your smile, especially if you've met your dental insurance deductible and still have benefits to use before the end of the year.
Dental Crowns Protect Your Smile from Costly Issues
If your dentist recommends you get a dental crown, you shouldn't put it off any longer than you have to. These tooth-shaped caps are designed to fit snugly over a tooth to restore its strength, functionality, and appearance. They also protect the tooth from any further damage or decay.
The longer you go without a dental crown that you need, the more you put your weakened or damaged tooth at risk. Remember, weakened or damaged enamel can't heal itself, so leaving your tooth exposed to pressure, food debris, and bacteria encourages the issue to get worse. You can easily end up with dental infections or irreparably damaged enamel. Not only are these problems painful, but they require complex treatments such as root canal therapy or tooth extractions that are much more costly than a dental crown.
Understanding Dental Insurance Coverage for Dental Crowns
Every dental insurance policy is different. However, if you need a dental crown for a medical reason and not just because you want to improve the appearance of a tooth, then it's likely your insurance will pay for at least some of it. Most insurance companies cover the cost of "major procedures" such as dental crowns up to about 50%. Depending on what materials your dental crown will be made of, this can save you quite a bit of money!
Repair Your Smile Before the Year Ends
Just like any other dental treatment, if you need a crown, it's a good idea to get it before the year ends. By the end of the year, it's likely that you've met your insurance policy's deductible, which means your dental insurance company will pay for your treatments with your annual maximum. However, when your policy renews at the beginning of the next year, your deductible will be reset and any unused parts of your annual maximum will expire. If you've met your deductible, your annual maximum will cover a portion of your dental crown, while if you wait until next year, you'll pay for it entirely as part of your deductible.
Regardless of what time of year it is, you shouldn't put off caring for your oral health. If you're hesitating to get the dental care you need because of costs, talk to your dentist about what dental insurance they accept and how to make your treatment as affordable as possible.
About the Author
Dr. James Candon of BridgeMill Dental Care is proud to provide excellent dental care to the smiles of Indian Land and the surrounding communities. He strives to make every appointment convenient and comfortable with relaxing patient amenities, flexible office hours, and sedation dentistry. In addition, he accepts numerous dental insurance plans as well as financing through CareCredit and the BridgeMill Dental Care in-house savings plan. To see how affordable caring for your oral health can be, don't hesitate to reach him via his website or at (803) 650-3925.